Memorial Stone at Cemetery Entrance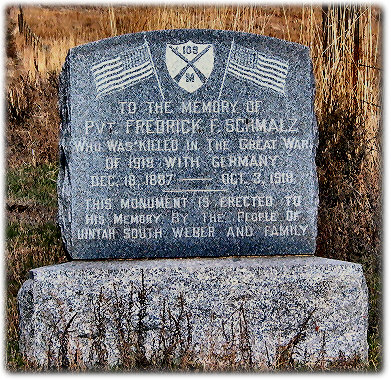 Fredrick Forrest Schmalz was born December 18, 1887, and died October 3, 1918, his parents were Charles and Margaret Affleck Schmalz. His family lived in the eastern part of South Weber around where the gravel pit is now located. They were active members in the community, they owned a large herd of sheep that they grazed on land in Uintah and other near by areas, and they attended Church at the Uintah Ward.
Fredrick severed in the Army, Company B of the 109th Infantry during WWI. He was a private and was killed in action in the Muse, Argonne Defensive Sector. Out of those called to service in Uintah and South Weber, Fredrick was the only who was killed in action. A memorial moument was constructed in his memory and placed in the Uintah Cemetery. The monument was first placed in the second section of rows but in the late 80's was moved to its final resting place at the entrance to the cemetery.
---
Burial care in the early days
Before mortuaries came out and picked up corpses, Robert Moroni Gale, an active member of the community, would pick up the deceased, lay out the dead, dress them, and prepare them for burial. The bodies were kept at homes until the funeral . He would pack them in ice, or have ice packs around them. He would sit up with the dead when no one else was available and he dug the graves in the cemetery for those that died. There were very few families in the town that he did not help and he never charged anyone for his service.
---
A bit of history
The first Uintah Cemetery was located west and south from the current cemetery where the upper railroad tracks are now located. When the upper tracks were constructed, the cemetery was moved to its present location.
When the Uintah Cemetery was first established, responsibility was assumed by the Bishop of the Church.
1922 to 1938 - Charles Adolph Fernelius
1939 to 1947 - Alto Stevens
1948 to 1961 - Alma Milton
1965 Mayor took over responsibility and acted as sexton or appointed a sexton
1965 to 1972 - John M. Pringle
1973 to 1977 - Jack Keyes
1978 to 1979 - Delon Atkinson
1980 to 2012 - Gordon Pringle
2013 to 2014 - Sue Bybee
2014-present-Stephanie Howell
All the cemetery records prior to 1922 were destroyed in a fire. The oldest known death is 1865, Levinas Jones. The oldest Veteran was from the Mexican War (1845 to 1848) and died in 1909, John M. Bybee.

1922 6 graves sold for $4.
1939 to 1955 no graves were sold.
1955 8 graves sold for $10.
1961 to 1965 no graves were sold.
1965 8 graves sold for $20.
1972 8 graves sold for $45.
1973 8 graves sold for $50.
1975 4 graves sold for $100 to non-residents.
1976 to 1979 8 graves sold for $25.
1979 to 1981 no graves sold.
1980 graves were only sold by single lots.
1981 1 grave sold for $100 to residents and $200 to non-residents.
1999 1 grave for $150 for residents and $400 for non-residents.
2008 1 grave for $100 for residents and $600 for non-residents with $50.00 perpetual care for resident, $200.00 for non-resident. Opening/closing costs of grave $200.00, title transfer deed $20.00.
2012 1 grave for $250 for residens and $850 for non-residents. Opening/closing costs of grave $400, title tranfer deed $20resident, $40 non-resident
2013 1 grave for $500 for residents and $1000 for non-residents. Opening/closing costs of grave $600, title transfer deed $20.

Perpetual care for the cemetery was started in January 1999. Gordon Pringle was on the City Council over the cemetery. He became the Sexton for the cemetery in 1980 at the end of his term on the Council. He spent many hours making improvements to the cemetery where it has become a welcoming site to visit for the whole community.